When upload the project related info in the website, please fill this form and send it to P5-NUM purevtsogt@seas.num.edu.mn and altansukh@seas.num.edu.mn
Title:
…
Main text (max 500 words, including event name, place organized (location or virtual), event period, name of participants or organizations, event significance, highlighting point and etc.,):
…
Appendix:
If you have some appendix (meeting agenda, event report and etc.,), please send it with this form.
Photo:
Up to 5 photos, if available
More information:
If this news is published somewhere in any language, please write the link.
Reported by:
Full name, organization
Example of NEWS (past event):
The Grant holders meeting of ERASMUS+ CBHE
The Grant holders meeting of ERASMUS+ Capacity Building in Higher Education has been virtually organized between 25 and 29 January 2021.
Several important topics, including Capacity Building in Higher Education: current and future prospective by Ralf Rahders Head of Unit, EACEA, Designing the future: role and responsibility of Higher Education Institutions by Prof. Muhammad Yunus Founder of Grameen Bank and Nobel Peace Prize Winner 2006, CBHE Project Implementation, Monitoring and Financial Management by Carla Giulietti and Anila Troshani EACEA and Management at the time of COVID19 by Eva Valle Casanova and Paivi Hernesniemi EACEA have been presented. Moreover, Regional workshops, Helpdesk, E-booths and Bilateral meeting also organized.
Most importantly, questions have been collected from Partners of URGENT project, and asked during the Bilateral meeting with Ms Giordana BRUNO, Project Adviser on 28 January 2021, and she provided us very clear answers.
Entirely, this online meeting was very important and efficient to carry on the URGENT project.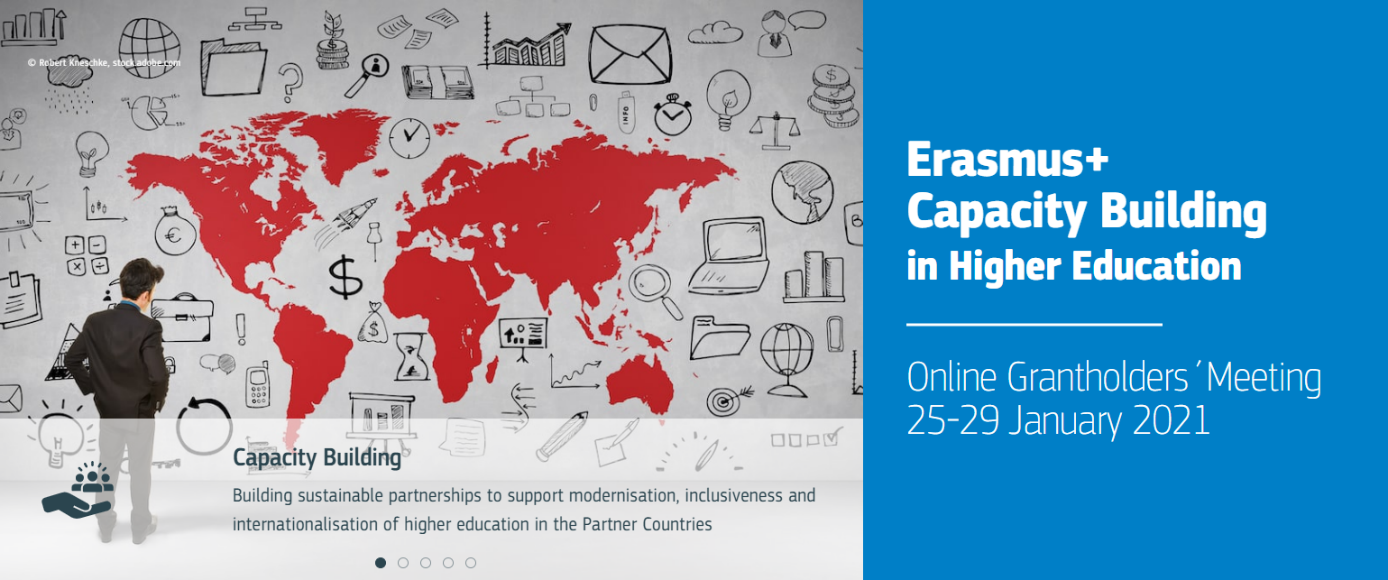 For more information, please visit the following website. https://cbhegrantholders2021.eu/
Reported by Ochir ALTANSUKH, National University of Mongolia
Example of the UPCOMING EVENT (future event):
The URGENT kick-off online meeting
The URGENT kick-off online meeting will be held between 10 and 12 March 2021 using ZOOM. All 15 partners of the URGENT project from 5 countries Germany, Italy, Estonia, Mongolia and India, will participate and present about their organizations. Most importantly, the project management issues will be presented by the European partners and discussion will continue among the partners.
Objectives of the meeting:
Introduce work and research areas of partners
Present/Discuss objectives, contents, time schedule, responsibilities etc.
(à common understanding, acceptance, motivation, "Team Spirit"...)
Discuss and solve open problems or critical points
Present and discuss financial and administrative issues
Define rules and guidelines for cooperation
Present/Discuss the activities of first year (2021)
Concretise project planning; determine next steps (Micro Management)
Introduce of Quality Control Matrix (QCM) and training
The meeting agenda is attached.
Reported by Ochir ALTANSUKH, National University of Mongolia
Label
When purchase equipment, please use this label template and place on the equipment.