SUMMER SCHOOL PROGRAM FOR URBAN RESILIENCE, ADAPTATION AND SUSTAINABLE ENVIRONMENTAL MANAGEMENT
Introduction:
National University of Mongolia (NUM), a partner of the URGENT project and the coordinator of the ONE project, both funded by ERASMUS+ programme of the European Union, is delighted to announce the summer school program for urban resilience, adaptation and sustainable environmental management. A summer school is jointly organized by two projects, namely Urban resilience and adaptation for India and Mongolia - URGENT and European orientation for sustainable environmental management in Mongolia – ONE projects, in the Ulaanbaatar city, Mongolia between 15 and 28 July 2022. During the summer school, the participants will acquire the skills and knowledge about European Union environmental innovation (including management, policy, financial instruments) and understanding of the urban ecology-environment, green-blue infrastructure and nature-based solutions.
The objective of the summer school:
The objective of the summer school is to serve as a training and knowledge exchange opportunity for domestic teaching staff, who will, together with EU colleagues, develop a detailed syllabus and teaching & learning contents, set-up case studies, jointly teach, and co-supervise student research groups.
Registration:
The Summer school open-call announces through websites and social medias of the projects' partners in May 2022, and registration finished by 10 June 2022 via online platform
http://registration.num.edu.mn/Home/Programs.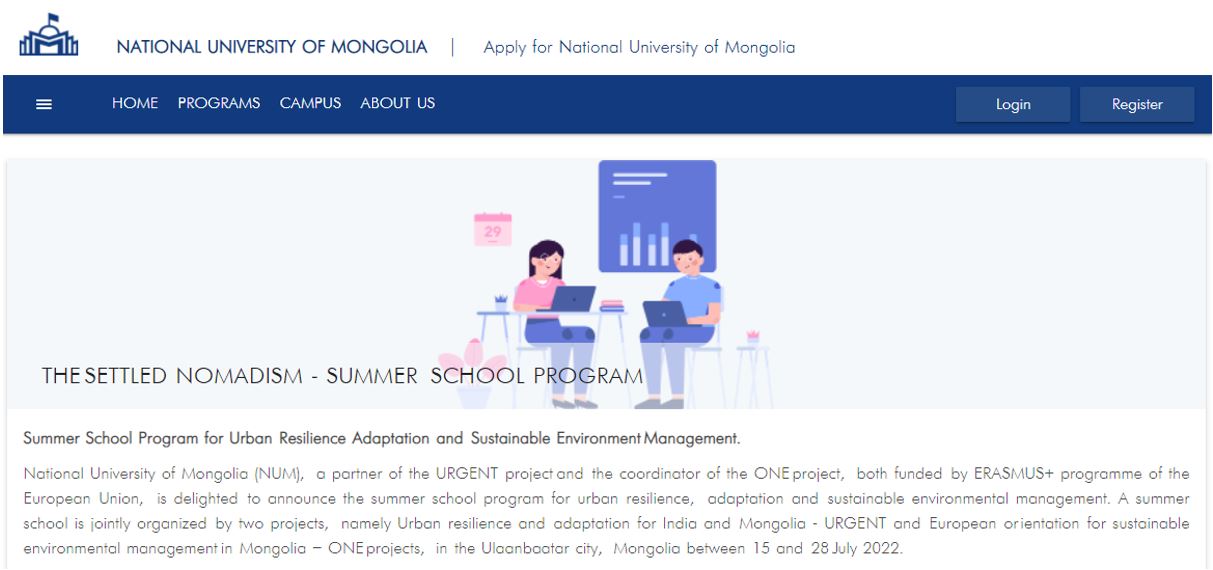 Early applications will be given priority "First come first serve".
Duration: 14 days (15th July – 28th July, 2022)
Registration deadline: 10 June 2022
Fees:
No fee requires for Mongolian participants of the ONE project. All costs, including travel insurance, out-city transportation, food and accommodation during out-city activity will be supplied by the ONE project.
No fee requires for participants of the URGENT project. All costs, including insurance, transportation, food, daily allowance, accommodation will be covered by travel and stay cost of the project.
Participants not belonging to one of the projects, need to pay their own fee, which costs 1000 USD excluding international travel cost.
Travel accessories and personal supplies during the summer school will be borne by the participant.
Accommodation and work environment:
In the city, foreign students will stay in student hostel of the National University of Mongolia. Mongolian students will stay in their home. In the field, students must be prepared to live and work in a field camp, sleep in tents, share camp chores and maintenance, and engage in strenuous outdoor activities such as hiking to field work. Professors and staffs will stay at a hotel that the organizing committee recommended, or they can book themselves.
Certificate:
Upon successful completion of the summer school, the graduate students will get a certificate issued by the National University of Mongolia with 4 ECTS transferred.
Important dates:
1st May 2022 Open-call announcement
until 10th June 2022 Online registration
5-10th June 2022 Interview, if necessary
By 15th June 2022 Selection and information
Visa:
When required, participants should obtain Mongolian visa. The visa should be valid for the period of the summer school. Please make an enquiry from Mongolian Embassy in your home country in respect to Mongolian visa requirement.
For further information on visa, please visit
https://immigration.gov.mn/en/visa-total/
More detailed information, please see the full program here.